In
blog
| posted by: fintankelly
Hi Buddies,
Please find to follow a recent review from Piera at JollyMom.com
Meet BubbleBum: The Only Lightweight Portable, Safety Approved, Inflatable Car Booster Seat
Necessity is the mother of invention and if anyone knows a little something about this–it's moms. Moms know all about needing to solve a problem, but the product simply doesn't exist or what does exist–doesn't work. It can be very frustrating. That's how Grainne Kelly felt about booster seats on the market today. They are big, bulky, and too heavy to carry around with you at the airport, onto buses and taxis, on vacation. That's why she invented the BubbleBum.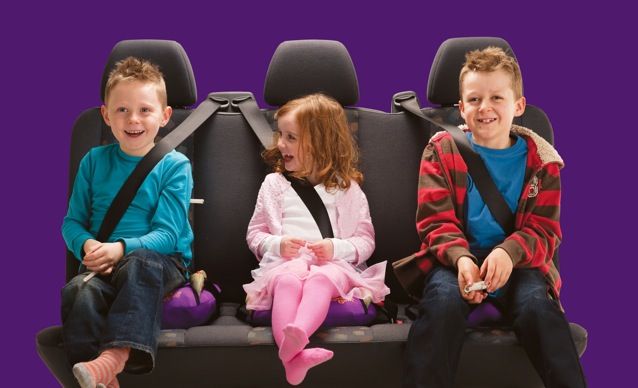 BubbleBum is an inflatable car booster seat for children ages 3 to 11. When deflated, the BubbleBum can be folded flat into a compact and ultra-light package, which makes it easy to travel with. Plus, the compact design means that you can fit THREE of them across the backseat. Obviously the BubbleBum is perfect for travel and public transportation. You can even have your kids keep it in a backpack so they can use the BubbleBum for the school bus and carpools! How genius is that?!
I know what you're all thinking because it's the first thing I thought of as well: WHAT ABOUT SAFETY? Well, first of all it is safer than using nothing, which is what many of us have to do on buses, taxis, etc. That being said, BubbleBum has been tested and approved to both the ECE R44.04 standard and crash tested to meet the USA FMVSS213 standards. I was also happy to learn that the BubbleBum is more than an inflated cushion. There's a science behind it–all with your child's safety in mind.
BubbleBum Features:
It is constructed of durable material similar to that of life vests and other life saving products.
Inside the air chamber cushion is memory foam.
The Belt Positioning clip are constructed of high press metal and ABS.
Another advantage of the BubbleBum is that it is made entirely of energy absorbing material.
Memory foam by nature, keeps trying to expand with air, so in the event of a puncture, the BubbleBum remains structurally sound.
Source www.jollymom.com
Date 5 August 2011